There are lots of custom writing companies out there, but choosing the one that can deliver high-quality papers can be a real challenge. Your hard-earned money should be going towards creative and informative content that gets you better grades.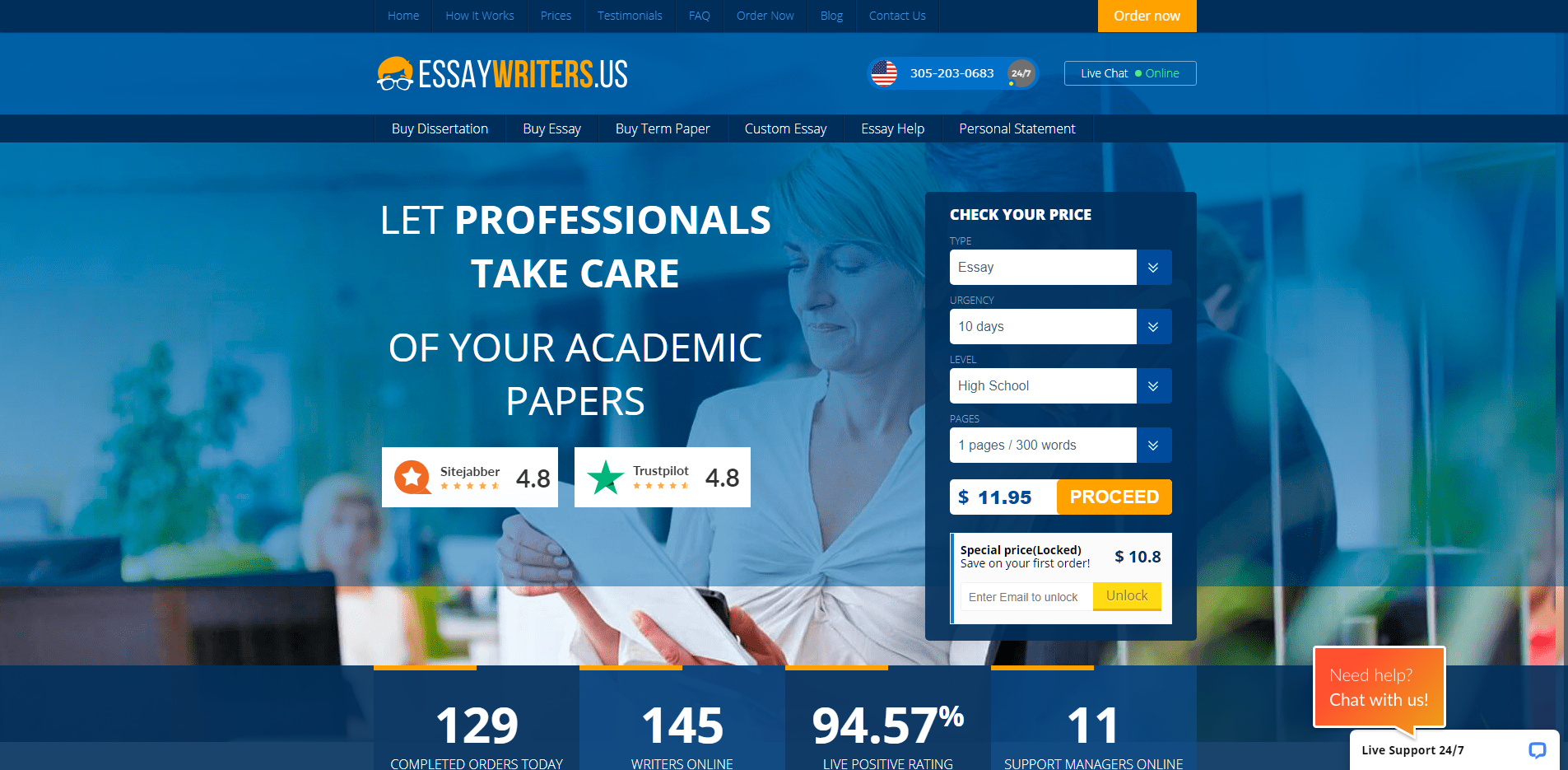 EssayWriters.us Review
Price from: $11.95
Discounts for the first order: 10%
Delivery time: 12 hours
General Info
Students know that when they need help with their essays and other assignments, custom writing services can be a real asset. On the other hand, it is difficult to know which companies are dependable and which ones should be avoided. Students want good quality academic work at affordable prices, but at what point are the prices so cheap that it affects the writer's performance? In most cases, the only way for them to find out is to order a paper and hope for the best. We do not believe you should risk your grades by rolling the dice, which is why we provide trustworthy and unbiased reviews of all the major custom writing companies. Make sure you are fully informed before you decide which one to choose.
We have prepared EssayWriters.us review. According to the website, the company is able to handle every type of writing assignment regardless of academic level as well as other types of homework. They can even put together full dissertations, which is a pretty impressive feat. Along with custom writing, you can order editing, proofreading and formatting services.
One of our first concerns was with the fake profile pictures of the writers. For instance, we were easily able to figure out that the picture of "Jason S. Anderson" is actually a filmmaker named Michael Brown. Likewise, the "Cheryl H. Shannon" pic is a Pakistan student. If they cannot be honest about their writer's identities, can they be trusted to write a quality paper? Let us find out.
As we do with every company that we review, we ordered a high school-level history paper 5 pages in length (double-spaced) with a 7-day deadline. We also requested an American-based writer. We evaluated the company's pricing and discount policy, the quality of the paper and their customer support team. Check out what we discovered about EssayWriters.us.
Prices, Discounts, Payments
When it comes to services that are aimed at students, it is important that the price strike the right balance. If it is too high, it will not be accessible. On the other hand, if it is too low the writers are not going to be inclined to do a good job. In the case of essaywriters.ua, their papers start at $11.95/page for high school-level work with a 10-day deadline. We find this to be a really good deal. The price depends on a few factors such as the length of the assignment, the type of paper, deadline and academic level.
The website offers 10% discount, for the first order.
Quality of Papers
Here is the part of the review that matters most: how did EssayWriters.us perform? Unfortunately, not particularly well. A high school-level history paper should not be a difficult task, especially if the writer is truly American. But it was clearly written by a foreigner with intermediate English skills at best. A couple of the sources were appropriate, but they also used information straight from Wikipedia. In fact, the paper came back as 20% plagiarized. They corrected this issue when we pointed this out, but frankly, if they had genuinely used plagiarism software detection tools, this problem could have been avoided in the first place. Even with the revisions, we cannot imagine this paper getting anything higher than a C if it were actually submitted in a high school class.
Support
The customer support team can be reached via live chat, phone and email 24/7. When we used live chat to ask about the fake profile pictures, "Nelly" defensively asked, "What do you want from me?" Then she disconnected. That demonstrates a real lack of transparency. At least they did respond appropriately to our plagiarism issue.
Conclusion
While the prices were reasonable and we got our paper by the deadline, there was not a whole lot else that went right. It was clear that these writers are not as qualified as the website claims. The customer support team was also a mixed bag. There is simply no excuse for their laziness. We would not recommend the services of EssayWriters.us.
Beware!
EssayWriters.us is rated 6.6/10 which is below average.
Review is written by Jimmy Ruiz