There are lots of custom writing companies out there, but choosing the one that can deliver high-quality papers can be a real challenge. Your hard-earned money should be going towards creative and informative content that gets you better grades.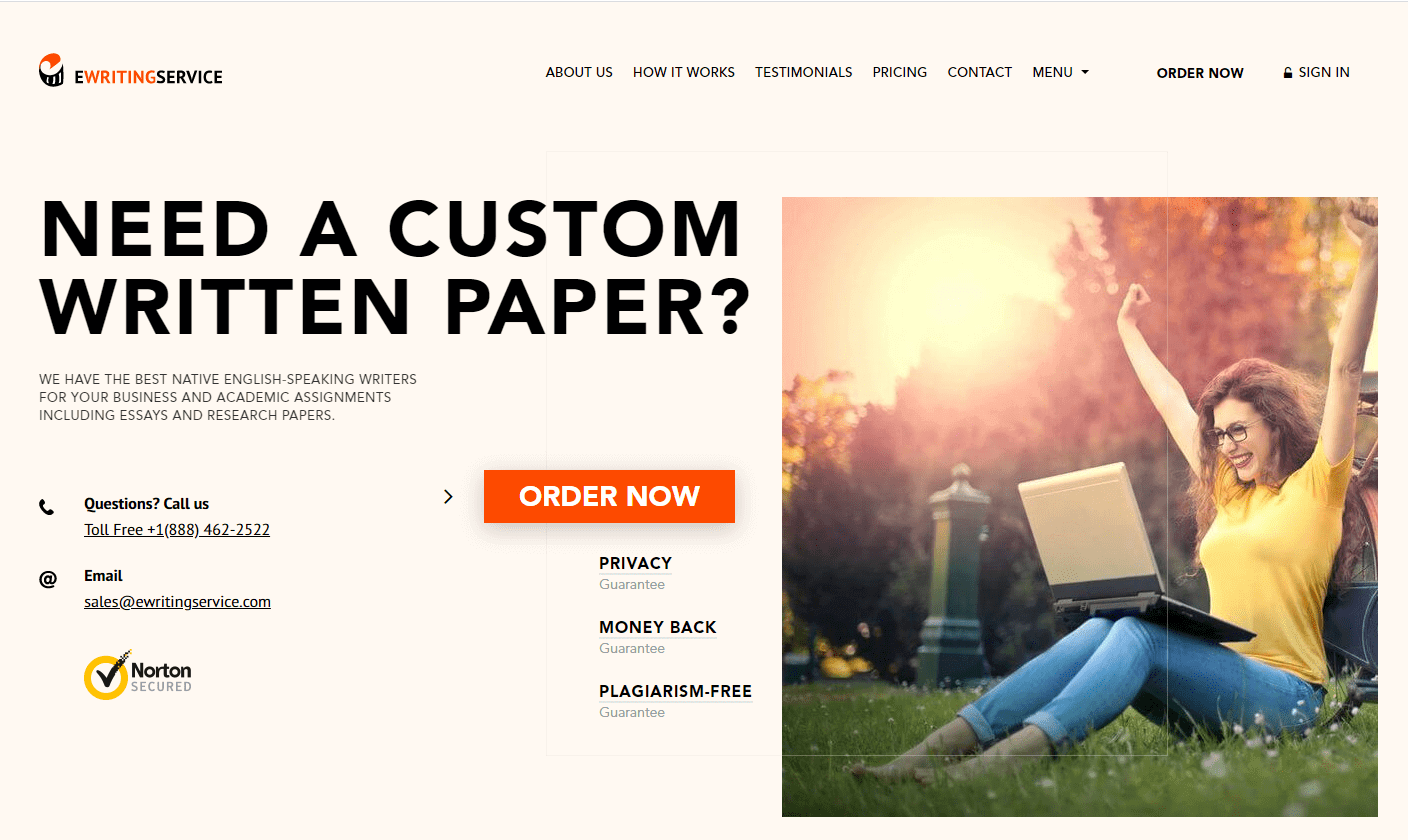 eWritingService.com Review
Price from: $17.56
Delivery time: 3 hours
General Fact about the Service
When you first visit the company's website, it looks really simplistic and outdated. The website is designed in brown colors and shades of brown and yellow, which is not the best option for sure. It looks as if amateurs made the site. Still, we are not here to evaluate the design, so we have tried to focus on the quality of writing they provide. If you are interested in the quality of writing, formatting, and customer support service, feel free to read eWritingService review.
eWritingService.com positions itself as an experienced agency specializing in custom writing. They have been operating on the custom market service since 2013. The site is user-friendly since the information is provided briefly and clearly. When you click the "menu" button, you will find the whole list of services provided by the company, particularly essays, case studies, business projects, movie and book reports and reviews, as well as proofreading and editing options. The company provides papers either in double or single spacing (300 or 600 words per page). They also work with a wide variety of citation styles, such as APA, MLA, Chicago, Harvard, and others. After we have looked through the website and the company's services, we have decided to order coursework of 5 pages within the deadline of 7 days. The topic dealt with history and the paper had to be written in correspondence with high school level. We requested double spacing and specified that we want our paper to be provided by a US writer.

Price Range, Discount System, Payment Options
There is no clearly provided price table or chart on the website. Each attempt to track the prices ends up in being forwarded to the initial quote per page. The lower price for one page of writing is $17.56, proofreading starts with $9.96, and editing ranges from $11.70. This is all the information provided on the website and it is not sufficient to get to know the exact prices for specific papers.
Before the system calculates the price of the order, you need to register on the website and fill in the required order application form with the necessary details. The biggest drawback of this procedure is that there are all possibilities that the price will not suit you or be affordable for you, so the whole application process would be conducted in vain. While evaluating the work of the website, we have decided to give the company a chance and went on placing an order. After we have filled all order details, we have seen the total price we had to pay. We were supposed to pay $114.50 for the paper, which means that the per-page rate is $21.90, which is too high. There was no information on the shortest and longest possible deadline. The price is definitely exorbitant.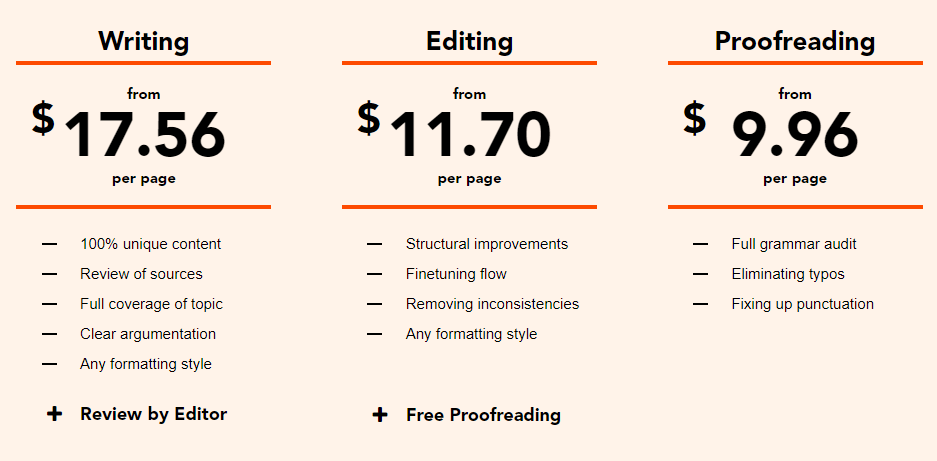 Despite such high prices, the company does not offer special offers or discounts. On the other hand, there are companies that may provide up to 30% of discounts, especially to first-time customers. Here, first customers are not given any benefits while returning clients have a special loyalty program, which depends on the number of pages ordered before. On the whole, it ranges from 5% to 15%.
A client can use the following online payment options: credit/ debit card, PayPal, MasterCard, Visa, American Express, and Discover.
Quality of Papers
The feedbacks and testimonials provided on the company's website are numerous but they are really short and they do not provide any details concerning the quality of services and the overall clients' impression. There is also no indication as to when exactly the testimonials and reviews were published, and thus it seems as though they are fake.
When we started searching for customers' reviews online, for example in social media, our suspicions proved to be right – many clients stated that they doubted that the writers were native speakers. Moreover, many of them complained about plagiarism issues, late delivery, poor content, and numerous grammar and punctuation mistakes.
The paper we got was not really awful. The assigned writer followed all instructions and provided a paper of mediocre quality. There were a few grammar mistakes and flaws in vocabulary usage and sentence structures. We immediately sent a revision request and the mistakes were corrected. We do not think that such quality was worth the price – there are plenty of other services that are more affordable.
Customer Support
The performance of customer support service is quite good. They do not demonstrate particular professionalism but they were responsive and eager to deal with the topical issues. At times, there was some miscommunication since it took long for the agents to deal with different inquiries and sometimes we did not receive answers to the specific questions we sent.

When we saw that the paper does not fully correspond to the instructions given, we applied for a revision. It took us more than 15 minutes to clarify everything since we were transferred from one agent to the other. Finally, the revision request was accepted.
Conclusion
As you might have already understood, eWritingService.com lacks effective communication and representation of important details on the website. The papers are overpriced for the poor and mediocre quality provided. Moreover, the service is not appealing to new customers as it does not provide any special offers or discounts.
Beware!
eWritingService.com is rated 7.4/10 which is below average.
Review is written by Jimmy Ruiz